Image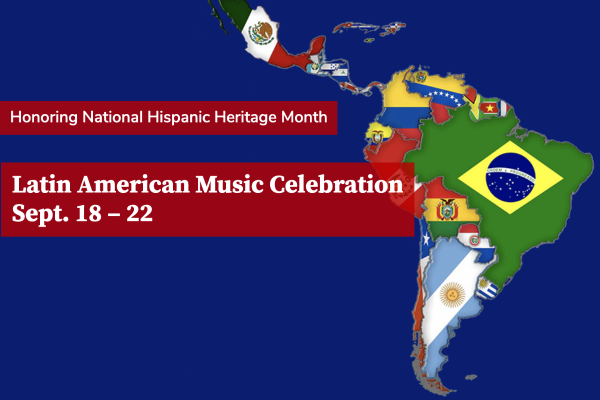 September 22, 2022
8:00PM - 9:30PM
Location
Weigel Auditorium
Date Range
Add to Calendar
2022-09-22 20:00:00
2022-09-22 21:30:00
Latin American Music Celebration Concert
This annual concert will feature both classical and contemporary works by Latin American composers across Argentina (Piazzola, Spinnetta), Brazil (Mehmari, Giba Conceiçao), Chile (Parra/arr. Pilar), Cuba (Lecuona, Roldán), Mexico (Flores, Márquez), Peru (Alcedo, Soto), and Venezuela (Moleiro). Co-sponsored by The Center for Latin American Studies Performers include the Ohio State Wind Symphony, Flute Troupe, Latin Jazz Combo, Percussion Ensemble, The Andes Heavy Metal Project, School of Music faculty and students; Orlay Alonso; Ohio State guest faculty guitarist Mónica Giusti, distinguished professor in the College of Food, Agriculture and Environmental Science; and three guest artists-in-residence. Our guests also performed a Guest Artist Recital on Sunday, Sept. 18.  Attendance is free and open to the public. This event will not be livestreamed. Access a digital Concert program before, during or after the concert. No paper programs will be distributed. Guest Artists Luiz Guilherme Pozzi, piano, graduated from the State School of Music and Fine Arts in Curitiba, Brazil, where he was taught by the Russian pianist Olga Kiun. Soon after, he took his Diplom–Musiker at the Superior School for Music from Freiburg, Germany, under the supervision of Felix Gottlieb. In Austria, Pozzi finished his post-graduate studies with honors under Alexander Satz. The pianist holds a master's degree in music performance from the State University of Campinas (UNICAMP) and a DMA at the University of São Paulo (USP). Recently Pozzi finished his post-doctoral research project on Beethoven Tempo Flexibility, also at the University of São Paulo. His debut CD, recorded live with sonatas of Brahms and Liszt won the 26th Brazilian Music Award — the most important recording prize in Brazil. Luiz Guilherme Pozzi teaches piano and chamber music at the São Paulo State School of Music, holds the piano professor chair at the Santa Marcelina faculty, and teaches piano and chamber music at the University of São Paulo (USP). His pupils have collectively won more than a hundred prizes and distinctions in national and international music contests. After graduating from UNICAMP under the guidance of Professor Paulo Justi, Fábio Cury, bassoon, joined the solo performance class of Prof. Klaus Thunemann at Hannover Musikhochschule. With a Master in Arts from UNICAMP and PhD in Music from USP, he has served as bassoon professor at São Paulo University since 2002. Cury acted as the principal bassoonist at the São Paulo Symphony Orchestra and São Paulo Opera, in addition to being one of the founding members of Camerata Aberta, with which he received the APCA and Bravo awards. Within his extensive phonographic production, one can find an eclectic repertory, ranging from Bach's works on the baroque bassoon to contemporary music with Camerata Aberta. He recorded works by Brazilian composers such as Mignone, Villa-Lobos, Guarnieri, Claudio Santoro, André Mehmari, Antônio Ribeiro and Alexandre Lunsqui, among others. His album Velhas e novas cirandas: Brazilian music for bassoon and orchestra was awarded APCA Prize for best CD in 2010. Born in Bahia with a talent for music, Giba has developed his rhythmic creativity since adolescence. Considered today among the great drummers of Brazil, Giba began his professional career in 1986 and received the prestigious Caymmi Award as a musician in 1987. His work is rooted in the deep mysticism of Candomblé — a religious African tradition in Brazil. The instrument that he researches the most and in which he exhibits greater technical mastery is the cuíca, a large pitch range drum played with friction.  Giba has traveled extensively throughout Europe and the USA with renowned Afro-Brazilian singer Margareth Menezes. He has played and recorded with numerous talented Brazilian artists including Gilberto Gil, Zezé Mota, Paulinho da Viola, Paulo Moura, Armandinho, Elza Soares, Sarah Spelsberg, Jimmy Cliff, Stanley (Star Light) and the WIU Jazz Studio Orchestra. During his formative years, Giba helped and founded Samba groups such as Sexta Samba Sound, Samba Fama, and played with instrumental bands such as Pulsa Group, Auto Reverse and Ilú Batá, as well as with several carnival bands. In 2001, he participated in a major research project called "Odantalan." The project accessed the Afro-diasporic cultural and spiritual heritage by uniting great musicians from Africa and the diaspora in Luanda, Angola. In 2012, he joined the Music Education Project at Western Illinois University.   Academic Exchange The Center for Latin American Studies and the School of Music have entered into a partnership for a series of academic exchange events in 2022 and 2024. In 2022 Ohio State will host three artist scholars from Brazil (bassoon, piano, Afro-Brazilian percussion) who will offer master classes and a recital, as well as perform in the Latin American Music Celebration Concert. They will also have engagements with the Department of Spanish and Portuguese, and will visit local schools. In October, Susan Powell, percussion; Michael Torres, saxophone; David Hedgecoth, music education; and School of Music Director Michael Ibrahim will travel to São Paulo, Brazil for a four-day residency at Universidade Estadual de São Paulo (USP). This portion of the trip is in coordination with the Ohio State Brazilian Gateway Office. The group will then continue on to Curitiba, Paraná for a four-day residency with Universidade Federal do Paraná (UFPR), in partnership with the Sister Cities International Program. Columbus and Curitiba are sister cities; Ohio and Paraná are sister states.  All events are subject to change. GETTING HERE While the new building for Theatre, Film and Media Arts remains under construction, the North side of the Timashev Music Building remains closed.  Park in the Ohio Union South Garage (open to visitors 24/7), walk North along College Rd. to enter the South doors of the Timashev Music Building. Weigel Auditorium is located on the second floor at the far south end of the building. An open stairway located just inside the south doors leads to the hall. If an elevator is needed, walk through the Music Commons, behind the open stairway to the back hallway. Follow the hallway through the double doors to the elevator. Driving and Parking Instructions 
Weigel Auditorium
OSU ASC Drupal 8
ascwebservices@osu.edu
America/New_York
public
Date Range
Add to Calendar
2022-09-22 20:00:00
2022-09-22 21:30:00
Latin American Music Celebration Concert
This annual concert will feature both classical and contemporary works by Latin American composers across Argentina (Piazzola, Spinnetta), Brazil (Mehmari, Giba Conceiçao), Chile (Parra/arr. Pilar), Cuba (Lecuona, Roldán), Mexico (Flores, Márquez), Peru (Alcedo, Soto), and Venezuela (Moleiro). Co-sponsored by The Center for Latin American Studies Performers include the Ohio State Wind Symphony, Flute Troupe, Latin Jazz Combo, Percussion Ensemble, The Andes Heavy Metal Project, School of Music faculty and students; Orlay Alonso; Ohio State guest faculty guitarist Mónica Giusti, distinguished professor in the College of Food, Agriculture and Environmental Science; and three guest artists-in-residence. Our guests also performed a Guest Artist Recital on Sunday, Sept. 18.  Attendance is free and open to the public. This event will not be livestreamed. Access a digital Concert program before, during or after the concert. No paper programs will be distributed. Guest Artists Luiz Guilherme Pozzi, piano, graduated from the State School of Music and Fine Arts in Curitiba, Brazil, where he was taught by the Russian pianist Olga Kiun. Soon after, he took his Diplom–Musiker at the Superior School for Music from Freiburg, Germany, under the supervision of Felix Gottlieb. In Austria, Pozzi finished his post-graduate studies with honors under Alexander Satz. The pianist holds a master's degree in music performance from the State University of Campinas (UNICAMP) and a DMA at the University of São Paulo (USP). Recently Pozzi finished his post-doctoral research project on Beethoven Tempo Flexibility, also at the University of São Paulo. His debut CD, recorded live with sonatas of Brahms and Liszt won the 26th Brazilian Music Award — the most important recording prize in Brazil. Luiz Guilherme Pozzi teaches piano and chamber music at the São Paulo State School of Music, holds the piano professor chair at the Santa Marcelina faculty, and teaches piano and chamber music at the University of São Paulo (USP). His pupils have collectively won more than a hundred prizes and distinctions in national and international music contests. After graduating from UNICAMP under the guidance of Professor Paulo Justi, Fábio Cury, bassoon, joined the solo performance class of Prof. Klaus Thunemann at Hannover Musikhochschule. With a Master in Arts from UNICAMP and PhD in Music from USP, he has served as bassoon professor at São Paulo University since 2002. Cury acted as the principal bassoonist at the São Paulo Symphony Orchestra and São Paulo Opera, in addition to being one of the founding members of Camerata Aberta, with which he received the APCA and Bravo awards. Within his extensive phonographic production, one can find an eclectic repertory, ranging from Bach's works on the baroque bassoon to contemporary music with Camerata Aberta. He recorded works by Brazilian composers such as Mignone, Villa-Lobos, Guarnieri, Claudio Santoro, André Mehmari, Antônio Ribeiro and Alexandre Lunsqui, among others. His album Velhas e novas cirandas: Brazilian music for bassoon and orchestra was awarded APCA Prize for best CD in 2010. Born in Bahia with a talent for music, Giba has developed his rhythmic creativity since adolescence. Considered today among the great drummers of Brazil, Giba began his professional career in 1986 and received the prestigious Caymmi Award as a musician in 1987. His work is rooted in the deep mysticism of Candomblé — a religious African tradition in Brazil. The instrument that he researches the most and in which he exhibits greater technical mastery is the cuíca, a large pitch range drum played with friction.  Giba has traveled extensively throughout Europe and the USA with renowned Afro-Brazilian singer Margareth Menezes. He has played and recorded with numerous talented Brazilian artists including Gilberto Gil, Zezé Mota, Paulinho da Viola, Paulo Moura, Armandinho, Elza Soares, Sarah Spelsberg, Jimmy Cliff, Stanley (Star Light) and the WIU Jazz Studio Orchestra. During his formative years, Giba helped and founded Samba groups such as Sexta Samba Sound, Samba Fama, and played with instrumental bands such as Pulsa Group, Auto Reverse and Ilú Batá, as well as with several carnival bands. In 2001, he participated in a major research project called "Odantalan." The project accessed the Afro-diasporic cultural and spiritual heritage by uniting great musicians from Africa and the diaspora in Luanda, Angola. In 2012, he joined the Music Education Project at Western Illinois University.   Academic Exchange The Center for Latin American Studies and the School of Music have entered into a partnership for a series of academic exchange events in 2022 and 2024. In 2022 Ohio State will host three artist scholars from Brazil (bassoon, piano, Afro-Brazilian percussion) who will offer master classes and a recital, as well as perform in the Latin American Music Celebration Concert. They will also have engagements with the Department of Spanish and Portuguese, and will visit local schools. In October, Susan Powell, percussion; Michael Torres, saxophone; David Hedgecoth, music education; and School of Music Director Michael Ibrahim will travel to São Paulo, Brazil for a four-day residency at Universidade Estadual de São Paulo (USP). This portion of the trip is in coordination with the Ohio State Brazilian Gateway Office. The group will then continue on to Curitiba, Paraná for a four-day residency with Universidade Federal do Paraná (UFPR), in partnership with the Sister Cities International Program. Columbus and Curitiba are sister cities; Ohio and Paraná are sister states.  All events are subject to change. GETTING HERE While the new building for Theatre, Film and Media Arts remains under construction, the North side of the Timashev Music Building remains closed.  Park in the Ohio Union South Garage (open to visitors 24/7), walk North along College Rd. to enter the South doors of the Timashev Music Building. Weigel Auditorium is located on the second floor at the far south end of the building. An open stairway located just inside the south doors leads to the hall. If an elevator is needed, walk through the Music Commons, behind the open stairway to the back hallway. Follow the hallway through the double doors to the elevator. Driving and Parking Instructions 
Weigel Auditorium
School of Music
music@osu.edu
America/New_York
public
Description
This annual concert will feature both classical and contemporary works by Latin American composers across Argentina (Piazzola, Spinnetta), Brazil (Mehmari, Giba Conceiçao), Chile (Parra/arr. Pilar), Cuba (Lecuona, Roldán), Mexico (Flores, Márquez), Peru (Alcedo, Soto), and Venezuela (Moleiro). Co-sponsored by The Center for Latin American Studies
Performers include the Ohio State Wind Symphony, Flute Troupe, Latin Jazz Combo, Percussion Ensemble, The Andes Heavy Metal Project, School of Music faculty and students; Orlay Alonso; Ohio State guest faculty guitarist Mónica Giusti, distinguished professor in the College of Food, Agriculture and Environmental Science; and three guest artists-in-residence.
Our guests also performed a Guest Artist Recital on Sunday, Sept. 18. 
Attendance is free and open to the public.
This event will not be livestreamed.
Access a digital Concert program before, during or after the concert. No paper programs will be distributed.
---
Guest Artists
Luiz Guilherme Pozzi, piano, graduated from the State School of Music and Fine Arts in Curitiba, Brazil, where he was taught by the Russian pianist Olga Kiun. Soon after, he took his Diplom–Musiker at the Superior School for Music from Freiburg, Germany, under the supervision of Felix Gottlieb. In Austria, Pozzi finished his post-graduate studies with honors under Alexander Satz. The pianist holds a master's degree in music performance from the State University of Campinas (UNICAMP) and a DMA at the University of São Paulo (USP). Recently Pozzi finished his post-doctoral research project on Beethoven Tempo Flexibility, also at the University of São Paulo. His debut CD, recorded live with sonatas of Brahms and Liszt won the 26th Brazilian Music Award — the most important recording prize in Brazil. Luiz Guilherme Pozzi teaches piano and chamber music at the São Paulo State School of Music, holds the piano professor chair at the Santa Marcelina faculty, and teaches piano and chamber music at the University of São Paulo (USP). His pupils have collectively won more than a hundred prizes and distinctions in national and international music contests.
After graduating from UNICAMP under the guidance of Professor Paulo Justi, Fábio Cury, bassoon, joined the solo performance class of Prof. Klaus Thunemann at Hannover Musikhochschule. With a Master in Arts from UNICAMP and PhD in Music from USP, he has served as bassoon professor at São Paulo University since 2002. Cury acted as the principal bassoonist at the São Paulo Symphony Orchestra and São Paulo Opera, in addition to being one of the founding members of Camerata Aberta, with which he received the APCA and Bravo awards.
Within his extensive phonographic production, one can find an eclectic repertory, ranging from Bach's works on the baroque bassoon to contemporary music with Camerata Aberta. He recorded works by Brazilian composers such as Mignone, Villa-Lobos, Guarnieri, Claudio Santoro, André Mehmari, Antônio Ribeiro and Alexandre Lunsqui, among others. His album Velhas e novas cirandas: Brazilian music for bassoon and orchestra was awarded APCA Prize for best CD in 2010.
Born in Bahia with a talent for music, Giba has developed his rhythmic creativity since adolescence. Considered today among the great drummers of Brazil, Giba began his professional career in 1986 and received the prestigious Caymmi Award as a musician in 1987. His work is rooted in the deep mysticism of Candomblé — a religious African tradition in Brazil. The instrument that he researches the most and in which he exhibits greater technical mastery is the cuíca, a large pitch range drum played with friction. 
Giba has traveled extensively throughout Europe and the USA with renowned Afro-Brazilian singer Margareth Menezes. He has played and recorded with numerous talented Brazilian artists including Gilberto Gil, Zezé Mota, Paulinho da Viola, Paulo Moura, Armandinho, Elza Soares, Sarah Spelsberg, Jimmy Cliff, Stanley (Star Light) and the WIU Jazz Studio Orchestra. During his formative years, Giba helped and founded Samba groups such as Sexta Samba Sound, Samba Fama, and played with instrumental bands such as Pulsa Group, Auto Reverse and Ilú Batá, as well as with several carnival bands. In 2001, he participated in a major research project called "Odantalan." The project accessed the Afro-diasporic cultural and spiritual heritage by uniting great musicians from Africa and the diaspora in Luanda, Angola. In 2012, he joined the Music Education Project at Western Illinois University.  
---
Academic Exchange
The Center for Latin American Studies and the School of Music have entered into a partnership for a series of academic exchange events in 2022 and 2024. In 2022 Ohio State will host three artist scholars from Brazil (bassoon, piano, Afro-Brazilian percussion) who will offer master classes and a recital, as well as perform in the Latin American Music Celebration Concert. They will also have engagements with the Department of Spanish and Portuguese, and will visit local schools.
In October, Susan Powell, percussion; Michael Torres, saxophone; David Hedgecoth, music education; and School of Music Director Michael Ibrahim will travel to São Paulo, Brazil for a four-day residency at Universidade Estadual de São Paulo (USP). This portion of the trip is in coordination with the Ohio State Brazilian Gateway Office. The group will then continue on to Curitiba, Paraná for a four-day residency with Universidade Federal do Paraná (UFPR), in partnership with the Sister Cities International Program. Columbus and Curitiba are sister cities; Ohio and Paraná are sister states. 
All events are subject to change.
---
GETTING HERE
While the new building for Theatre, Film and Media Arts remains under construction, the North side of the Timashev Music Building remains closed. 
Park in the Ohio Union South Garage (open to visitors 24/7), walk North along College Rd. to enter the South doors of the Timashev Music Building.
Weigel Auditorium is located on the second floor at the far south end of the building. An open stairway located just inside the south doors leads to the hall.
If an elevator is needed, walk through the Music Commons, behind the open stairway to the back hallway. Follow the hallway through the double doors to the elevator.
Events Filters:
---