Image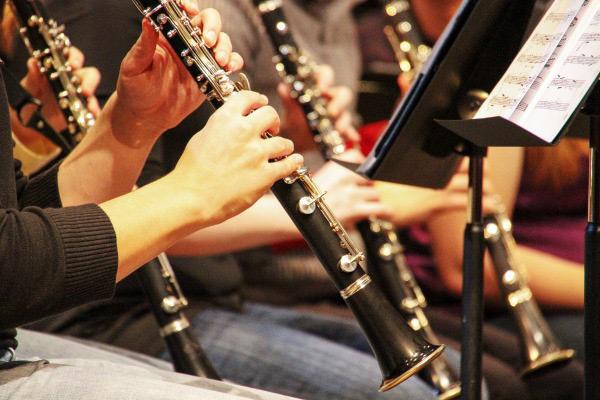 September 29, 2022
8:00PM - 9:30PM
Location
Weigel Auditorium
Date Range
Add to Calendar
2022-09-29 20:00:00
2022-09-29 21:30:00
Collegiate Winds and University Band
Enjoy a joint concert of classic wind band repertoire. Collegiate Winds perform The Star-Spangled Banner, arranged by Jack Stamp; Silver Light! by Benjamin Yeo; Ash, Jennifer Jolley; Rikudim: Four Israeli Folkdances for Band, Jan Van der Roost; and Tritsch-Tratsch Polka, Op. 214, Johann Strauss/arr. Alfred Reed. Phillip Day, Collegiate Winds conductor; Sarah Baker (Silver Light!) and Dustin Ferguson (Tritsch-Tratsch Polka), guest conductors. University Band presents Shimmering Joy, Tyler S. Grant; Reminiscence, Kathryn Salfelder; The Cave You Fear, Michael Markowski; Elements ("Petite Symphony"), Brian Balmages. Alex Mondragon and Joshua Reynolds, conductors. Livestream broadcast begins at 8 p.m. Access the digital Concert program before, during or after the concert. No paper programs will be distributed. All events are subject to change. GETTING HERE While the new building for Theatre, Film and Media Arts remains under construction, the North side of the Timashev Music Building remains closed.  Park in the Ohio Union South Garage (open to visitors 24/7), walk North along College Rd. to enter the South doors of the Timashev Music Building. Weigel Auditorium is located on the second floor at the far south end of the building. An open stairway located just inside the south doors leads to the hall. If an elevator is needed, walk through the Music Commons, behind the open stairway to the back hallway. Follow the hallway through the double doors to the elevator. Driving and Parking Instructions 
Weigel Auditorium
OSU ASC Drupal 8
ascwebservices@osu.edu
America/New_York
public
Date Range
Add to Calendar
2022-09-29 20:00:00
2022-09-29 21:30:00
Collegiate Winds and University Band
Enjoy a joint concert of classic wind band repertoire. Collegiate Winds perform The Star-Spangled Banner, arranged by Jack Stamp; Silver Light! by Benjamin Yeo; Ash, Jennifer Jolley; Rikudim: Four Israeli Folkdances for Band, Jan Van der Roost; and Tritsch-Tratsch Polka, Op. 214, Johann Strauss/arr. Alfred Reed. Phillip Day, Collegiate Winds conductor; Sarah Baker (Silver Light!) and Dustin Ferguson (Tritsch-Tratsch Polka), guest conductors. University Band presents Shimmering Joy, Tyler S. Grant; Reminiscence, Kathryn Salfelder; The Cave You Fear, Michael Markowski; Elements ("Petite Symphony"), Brian Balmages. Alex Mondragon and Joshua Reynolds, conductors. Livestream broadcast begins at 8 p.m. Access the digital Concert program before, during or after the concert. No paper programs will be distributed. All events are subject to change. GETTING HERE While the new building for Theatre, Film and Media Arts remains under construction, the North side of the Timashev Music Building remains closed.  Park in the Ohio Union South Garage (open to visitors 24/7), walk North along College Rd. to enter the South doors of the Timashev Music Building. Weigel Auditorium is located on the second floor at the far south end of the building. An open stairway located just inside the south doors leads to the hall. If an elevator is needed, walk through the Music Commons, behind the open stairway to the back hallway. Follow the hallway through the double doors to the elevator. Driving and Parking Instructions 
Weigel Auditorium
School of Music
music@osu.edu
America/New_York
public
Description
Enjoy a joint concert of classic wind band repertoire. Collegiate Winds perform The Star-Spangled Banner, arranged by Jack Stamp; Silver Light! by Benjamin Yeo; Ash, Jennifer Jolley; Rikudim: Four Israeli Folkdances for Band, Jan Van der Roost; and Tritsch-Tratsch Polka, Op. 214, Johann Strauss/arr. Alfred Reed. Phillip Day, Collegiate Winds conductor; Sarah Baker (Silver Light!) and Dustin Ferguson (Tritsch-Tratsch Polka), guest conductors.
University Band presents Shimmering Joy, Tyler S. Grant; Reminiscence, Kathryn Salfelder; The Cave You Fear, Michael Markowski; Elements ("Petite Symphony"), Brian Balmages. Alex Mondragon and Joshua Reynolds, conductors.
Livestream broadcast begins at 8 p.m.
Access the digital Concert program before, during or after the concert. No paper programs will be distributed.
All events are subject to change.
---
GETTING HERE
While the new building for Theatre, Film and Media Arts remains under construction, the North side of the Timashev Music Building remains closed. 
Park in the Ohio Union South Garage (open to visitors 24/7), walk North along College Rd. to enter the South doors of the Timashev Music Building.
Weigel Auditorium is located on the second floor at the far south end of the building. An open stairway located just inside the south doors leads to the hall.
If an elevator is needed, walk through the Music Commons, behind the open stairway to the back hallway. Follow the hallway through the double doors to the elevator.
Events Filters:
---